For the path pedaller 18 years and older interested in fun, friends, and coffee, we usually arrange two to four social rides per month, suitable for a range of abilities. Many of these rides follow or cross Melbourne's rail system. If riders are new to riding and are finding it difficult, they can catch a train home; you can build your cycling ability over time.
Every so often we get a little more adventurous and explore rail trails over a few days.
All rides are free and open to anyone who would like to participate. After two rides, we ask you to become a member of BayWest BUG.
All rides have a "Lead Rider and Tail Rider". Please stay with your lead rider. Should you have any issue while on a ride, such as with your bike or you are falling behind, your tail rider will contact our lead rider.
All riders must abide by our Code of Conduct.
If the weather is inclement, please contact the lead rider to check if the ride is on. Please also note that rides may be altered due to circumstances beyond our control.
In all cases, please contact the day's nominated lead rider to confirm that you wish to join the ride. If numbers are insufficient prior to a ride, it may be cancelled.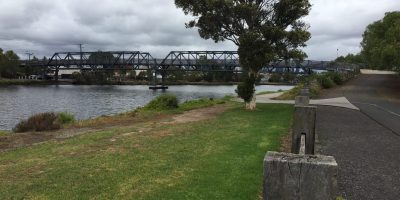 Depart from Altona Pier (50km ride) at 10.00 and Williamstown Beach (33km ride) at 10.30 to join and cycle along the Maribyrnong River Trail to Poyntons Garden Centre at Aberfeldie…